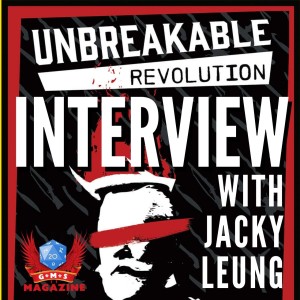 Thursday Dec 16, 2021
The Interview Room: Jacky Leung, bringing Asian Own Voices stories into tabletop spaces.
In this episode I am joined by Jacky Leung, from Unbreakable Publishers. Jacky is a Chinese American tabletop RPG writer and designer. He is also the Lead Creative Director for Unbreakable Publishers (@unbreakble_pub on Twitter), a platform bringing Asian Own Voices stories into tabletop spaces. Unbreakable Publishers plans to release four new anthologies featuring Asian contributors across 2021, showcasing indie RPGs and D&D 5e. He has appeared in several publications, including Paizo's Lost Omens: Gods and Magic, the Uncaged Anthology, and more. You can also find Jacky on Asian Represent's Asian Reads live on Twitch (twitch.tv/aznrep) on the first Saturday of every month as the crew reads through AD&D's Kara-Tur: the Eastern Realms at 12 PM EST and on All Nerds Here (https://twitch.tv/allnerdshere) on Sundays at 3 PM EST playing tabletop RPGs.
You can also find out more about Jacky here: https://startplaying.games/blog/team/jacky-leung
This podcast is made for people like you. Thank you for being there. Welcome to the GMS Podcast episode 434 a podcast about the people who make and the people who play tabletop board games and roleplaying games.
If you would like to participate or sponsor this podcast, or if you would like to send us your questions or comments, get in touch. You can email me on podcast@gmsmagazine.com or find me in Twitter as @gmsmagazine. and Chris is @diasexmachina
And please, leave a review about the podcast in whatever platform you listen. It really helps a lot and it means even more to me. Thank you.
From the publisher's page:
Renounce the status quo, be the drive for change.
Unbreakable: Revolution is a collection of Asian-centric adventures that showcases the versatility of Asian stories with a plethora of Tabletop Roleplaying systems and rulesets. 
Unbreakable: Revolution is currently available as both a digital file with a hardcover print version.
The digital edition includes:
A full color, 150-paged bookmarked PDF
A black and white printer-friendly bookmarked PDF
7 original standalone adventures from Asian writers and illustrators from around the world! 
The adventures feature a variety of systems and rulesets, including 13th Age, The Black Hack, B/X Essentials, d20 systems, One Shot World, Forged in the Dark, Gun&Slinger, Ironsworn, and more!
Produced by Jacky Leung and Jazz Eisinger. Layout & Graphics Design by Caroline Amaba.
Edited by Lexi Antoku, Omi Chun, Remy Cortez, Steve Huynh, Brent Jans, Doug Riechel, Alda Yuan.
Sensitivity & Cultural Consultations by Lexi Antoku, Daniel Kwan, Kevin Thien Vu Long Nguyen, Pam Punzalan, Vis Subramanian, TOR WAR.
Cover Art by Joshua Mendenhall. Original Artwork by Caroline Amaba, Alika Gupta, Cammiella Gwisdalla, Sonya Henar, Rajib Kalita, H. "Ink" Kugler, Herman Lau, Kevin Thien Vu Long Nguyen, Mia Mercury, Tiona Miché, Brian Phongluangtham, Angeli Rafer, TOR WAR, Nichole Wilkinson, Kathryne Wilson, Nala J. Wu.
Adventures Written by Doryen Chin, Kevin Thien Vu Long Nguyen, Rajib Kalita, Charu Patel, Pam Punzalan, Ari Santiago, KC Shi.
Content Warnings for the adventures in this anthology (these are also included before the relevant adventures):
alcohol, bodily harm, body horror, cemeteries, child abduction, claustrophobia, colonial violence, colonialism, cultural & religious oppression, dead parents & family members, drowning, firearms, foreign invaders, funerals, gambling, gang violence, gaslighting, hatchets/axes, horror, hostages, immolation, imperialism, imprisonment, inequity, kidnapping, knives, mentions of murder, open water, oppression, orphanages, piracy, prison, profaning of Christian beliefs & imagery, racial & religious prejudice reflective of 19th-century Spanish colonial society in the Philippines, racism, rats, slavery, snakes, starvation, suicide attempts, supernatural aging, theft, threatening ocean life (sharks), torture, violence, violence against children & elderly 
HARDCOVER PRINT IS NOW AVAILABLE!
WHAT ARE PEOPLE SAYING ABOUT UNBREAKABLE:
"The writing and artwork are powerfully beautiful, filled with a vital hope and will, burning bright against oppressive darkness - the sparks of revolution. Taking inspiration from the breadth of history, culture, experience, and imagination of the incredible, diverse Asian creators of the Unbreakable team, they created something truly spectacular." - Sebrina A Calkins
"What has me excited is how this collection has been curated." - Charlie Hall (Polygon)
"So this is an excellent book of adventures that any GM would be happy to run at their table, presented with utility and beauty." - The Rat Hole
"The level of thought and diligence they put into this, the level of both affection and diligence they put into the work; it's professional...it's folks who've actually thought about what it means to write things from a perspective that are representing a given specific culture in an anthology of work that is representing a much, much broader non-homogeneous series or set of cultures and they've put the work in." - Ramji (the 4th Culture)

Thank you for listening. It truly is wonderful to have you there and genuinely appreciated. The GMS Magazine Podcast is produced by Paco Garcia with assistance from Chris Dias and Martin Reed and the amazing bunch of listeners all over the world.  The theme tune is by Kev Adset.

Let me know what you think about the podcast by emailing me at podcast@gmsmagazine.com or on our FB page. You can also follow on Twitter @gmsmagazine.
Join us in our Discord Server: https://discord.gg/fHaKNPe
Visit other #GMSMagazine productions:
For our main channel: http://bit.ly/GMSmagazine
For our #podcast: https://goo.gl/M54zau
Follow us on #Twitter: https://goo.gl/moZgvK
Our #Facebook page: https://goo.gl/YkbQIj

Thank you once again and, until next time, game on!
Comments (0)
To leave or reply to comments, please download free Podbean or